Experience Stephen Bayliss
Join him at his next public event

36 Anchor Street, Southport PR9 0UT
1st December 2023 @ 7:30 pm – @ 11:55 pm

Over Hulton Conservative Club Bolton BL5 1AA
8th December 2023 @ 7:30 pm

36 Anchor Street, Southport PR9 0UT
14th December 2023 @ 7:30 pm – @ 11:55 pm
Upcoming Events
Events with availability will have a ticket link, use the form to ask us questions or request tickets!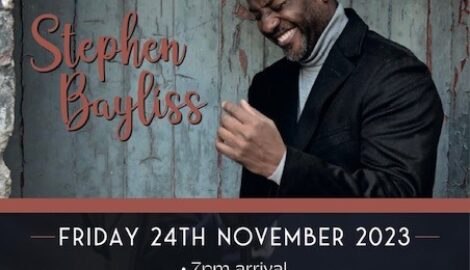 Barton Manor, Barton
24th November 2023 @ 7:00 pm
We keep this updated regularly!
Come back soon… x
See you there? ...I can't wait!
What people say...
Booked Stephen Bayliss for our Charity Dinner Dance 2010 and it was a resounding success.  Not only did Stephen work the room, he got everyone involved and brought everyone together which, when you are organising a large event with lots of people attending from different organisations is just what you need.  Stephen is not your usual stand-offish type of performer, he prefers to get into the heart of the function and he genuinely seemed to enjoy himself – which rubbed off on everyone else, so much so that we didn't want him to finish – even though he'd sung for 90 minutes!!   Can't recommend Stephen highly enough and we'd love to book him again if we have another function – you can't say more than that!!
Lancashire Police Federation
Just wanted to thank Stephen for making our wedding so fantastic!! Everyone who was there was on the dance floor, he was brilliant and I know he stayed on for much longer than was planned, so once again Thank you very much . . . everyone is still saying how good it was and how good Stephen was!!
I wish I could do it all again – but my dad wouldn't be too thrilled!! ha ha
Thanks for everything!!
Natalie